October 15, 2021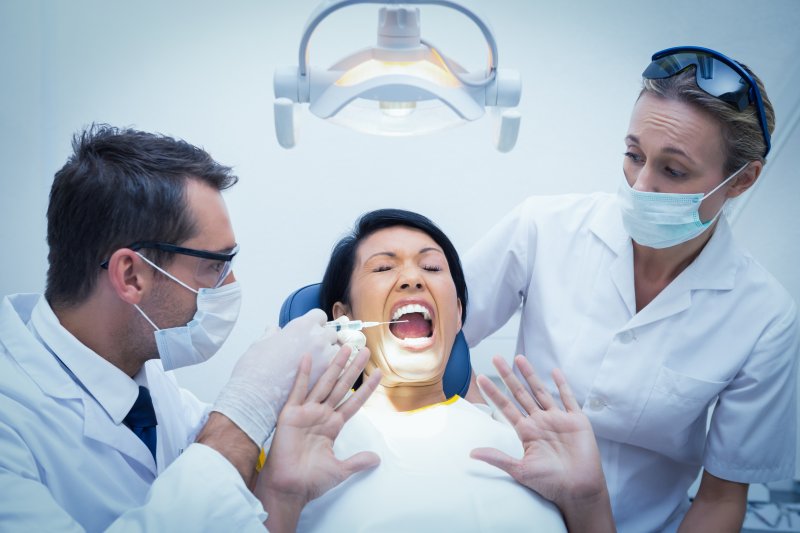 Dental fear affects approximately 36% of the population and prevents many people from visiting the dentist. Not visiting the dentist every six months can make your oral health suffer, but what causes patients to experience dental fear in the first place? Read on to learn about some of the common causes of dental fear in Hammonton and how sedation dentistry can help ease your worries.
6 Reasons Why People Avoid the Dentist
Dental fear is an emotional reaction to threatening stimuli in a dentist's office setting. It's characterized by a feeling of apprehension that something bad will happen in relation to treatment and a sense of losing control. Several factors can cause dental fear and anxiety, but a few of the most common ones include:
No dental insurance or concerns with the cost of treatment
Embarrassment or fear of being judged for the state of one's oral health
Unpleasant past experiences with the dentist
No pain or other symptoms of oral health issues
Fear of the unfamiliar noises and tools at the dentist's office
Trypanophobia, or a fear of needles
Forgetting or neglecting to schedule biannual appointments
How Dental Sedation Can Help
Fortunately, dental sedation can help patients who suffer from dental fear or anxiety receive the treatments they need. Oral conscious sedation is administered in the form of a pill that's taken before treatment. It puts you into a near-sleep state of calm so you can feel comfortable and secure during your procedure. Oral conscious sedation wears off gradually and leaves you with little to no memory of the treatment you just underwent.
Nitrous oxide, or laughing gas, is a good option for patients who are just looking to "take the edge off" during their procedure. It's safe enough to use with small children, and it has been used by dentists around the world for more than 100 years. This form of sedation is administered as an odorless gas through a small nasal mask. In just a few minutes, you will experience a feeling of calm that puts you completely at ease. Once the mask is removed, the effects of the nitrous oxide will wear off quickly so you can resume your day. In most cases, both oral conscious sedation and nitrous oxide are great choices for patients with special needs.
Why the Dentist Is Nothing to Fear
Though dental fear can be difficult to deal with, there's nothing to be scared of. Along with the option of using dental sedation, other reasons why you don't need to be afraid of the dentist include:
Dentists are trained professionals who are here to help. They will do whatever they can to help you feel safe and comfortable during treatment.
The sooner you receive the care you need, the better your chances of success are. Prompt treatment will allow you to avoid spending a lot of time and money and restorative procedures in the future.
Even if you had bad past experiences at the dentist's office, the right person will make sure things go as smoothly as possible.
If you have issues with dental fear or anxiety, reach out to your dentist to learn about their available options to help you receive the care you need. With dental sedation and the right oral health professional, your visits to the dentist will be a breeze!
About the Practice
If you're a resident of Hammonton who struggling to receive the care they need because of dental fear or anxiety, you've come to the right place. Dr. David Crescenzo, Dr. Joe Montalbano, and their team at the Center for Advanced Cosmetic Dentistry offer sedation dentistry for anxious patients so they can receive the treatment they need to keep their smiles bright and beautiful. Call (609) 561-0058 or visit their website for more information on sedation dentistry or to schedule an appointment.
Comments Off

on Why You Shouldn't Be Afraid of the Dentist This Halloween
No Comments
No comments yet.
RSS feed for comments on this post.
Sorry, the comment form is closed at this time.