Dental Implants – Hammonton, NJ
Rebuild Your Smile From the Roots Up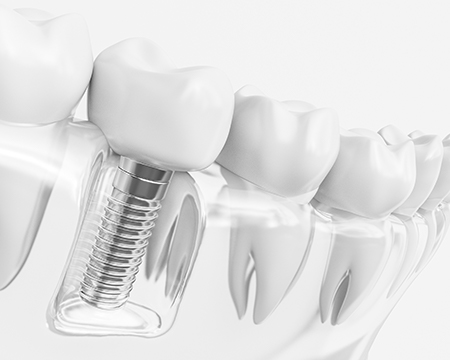 Dental implants are the permanent, natural-looking way to replace missing teeth. Whether you have one missing tooth or many, dental implants can beautifully rejuvenate your smile. At the Center for Advanced Cosmetic Dentistry in Hammonton, NJ, Dr. David Crescenzo performs dental implant restorations to help patients stop worrying about their smiles and start enjoying life!
Why Choose Center for Advanced Cosmetic Dentistry for Dental Implants?
Entire procedure completed under one roof
Restorations & prosthetics custom-made for every smile
Precise treatment planning guarantees beautiful results
Benefits of Dental Implants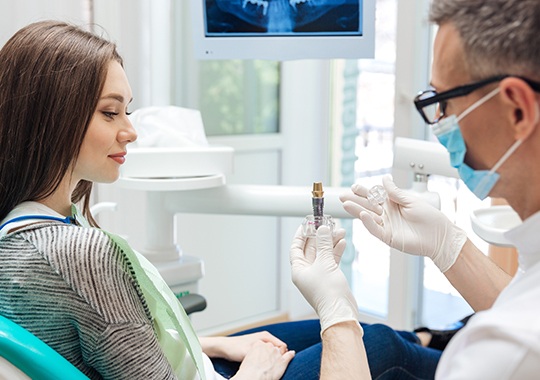 Complete Replacement: Dental implants work by placing a small titanium post into the jawbone to restore the root structure of a missing tooth. This is used to support a crown, bridge, or denture, and thanks to this strong foundation, patients never need to worry about their new teeth shifting, slipping, or breaking.
Seamless Aesthetics: We use 100% custom-made porcelain restorations to top our dental implants, giving them a lifelike appearance that blends easily into any smile.
Simple Maintenance: Unlike a traditional denture that requires its own unique cleaning routine, you can take care of your implants just like your regular teeth to keep them looking and feeling like new.
Lifelong Benefits: Bone loss is extremely common after tooth loss, but implants are the only treatment shown to stop and even reverse this process, helping a patient maintain a more youthful facial shape.
Unmatched Longevity: With the proper care, dental implants can often last for 30 years or more, or even for the rest of a patient's life in some cases.
Indications for Dental Implants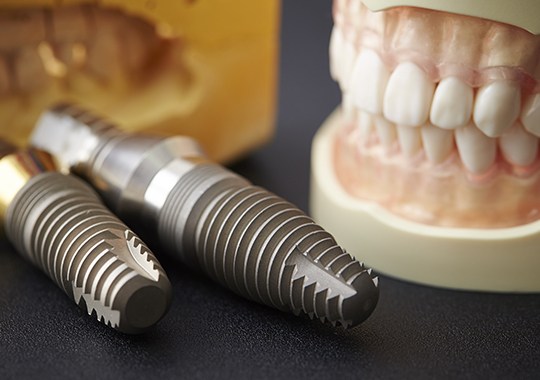 Dental implants can be used to help patients missing any number of teeth. They just need to have three basic requirements: good dental health, stable overall health, and enough jawbone to support the new roots. Once all of these conditions are met (our team can help you with any that are lacking), we can go over your restorative options.
Missing Single Tooth
A dental implant root can be placed into the jawbone and connected to a porcelain crown using something called an abutment. Unlike with a traditional bridge, single implants don't require the adjacent teeth to be altered at all, better preserving someone's natural dental structure.
Missing Multiple Teeth
For patients missing teeth throughout their mouth, implants offer plenty of options. Crowns can be placed anywhere, and a small number of roots can even be used to secure a partial denture. Just two implant "roots" can be used to give a patient a dental bridge that replaces up to three teeth in a row.
Missing All Teeth
It only takes four to six carefully placed implant roots to give a patient a rock-solid full denture. Compared to a traditional removable prosthetic, implant dentures are smaller, have a better hold, and can even help a patient recover much more of their natural bite strength.
How Dental Implants Work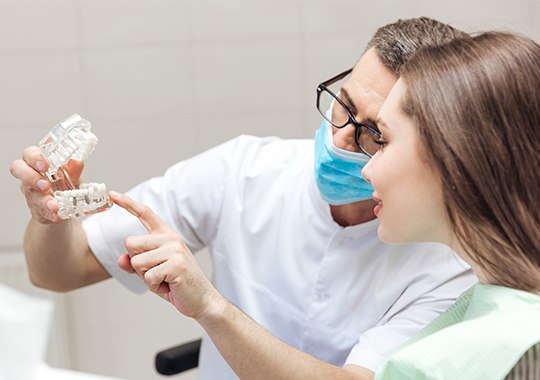 The dental implant procedure is usually completed over the course of two main phases: placement, in which the roots are positioned within the jawbone, and restoration, where the new teeth are attached. Typically, patients would need to visit multiple doctors to have this all completed, but at the Center for Advanced Cosmetic Dentistry, you can get everything you need under one roof. Dr. Crescenzo has the training and experience to perform both portions of the procedure himself so that you can save time, money, and stress while rebuilding your smile.
Understanding the Cost of Dental Implants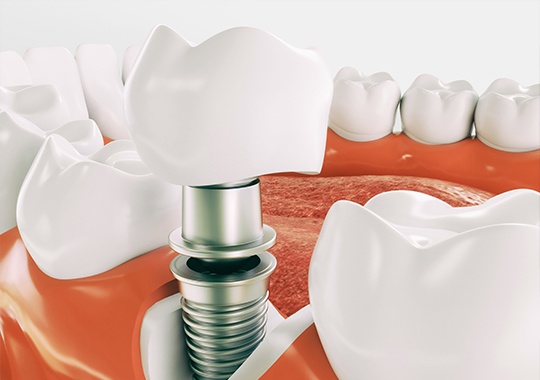 The most important thing to know about the cost of dental implants is that there is no fixed price. The number of implants needed, the type of restoration used, and many other factors can make the price vary from person to person. While implants do tend to be more expensive than other options, they are also an investment that will last for decades, and a patient won't have to periodically replace their restorations like with traditional bridges and dentures.
Dr. Crescenzo and the team at the Center for Advanced Cosmetic Dentistry in Hammonton, NJ provide comprehensive dental care, including dental implants, to South Jersey, Egg Harbor Township, Galloway, and the surrounding communities. Contact us if you're in need of an appointment!