Dental Implants – Hammonton, NJ
Rebuild Your Smile from the Roots Up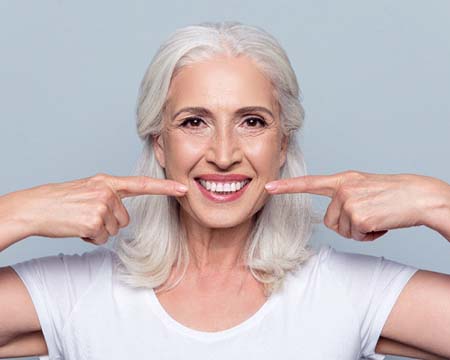 Nowadays, you have more options than ever before to replace your missing teeth. However, one solution stands out above all the rest – dental implants. As the only option to recreate the entire tooth structure, dental implants in Hammonton give you a nearly perfect replica of your natural smile in terms of look, feel, and function. At the Center for Advanced Cosmetic Dentistry, Dr. David Crescenzo can handle every step of the dental implant process in-house for streamlined treatment. If you're ready to rebuild your smile from the roots up, call our team today to learn more about dental implants!
Why Choose Center for Advanced Cosmetic Dentistry for Dental Implants?
Start-to-Finish Dental Implant Treatment Under One Roof
3D Cone Beam Imaging Ensures Precise Treatment Plans
Low-Interest Dental Financing Available
What Are Dental Implants?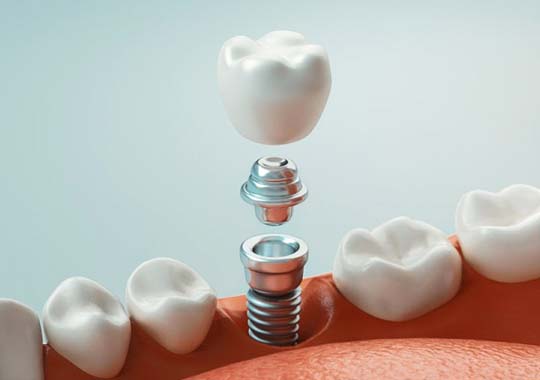 A dental implant is a small titanium post that is placed into the jawbone to restore the root structure of a missing tooth. This is used to support a crown, bridge, or denture. Since the implant post is biocompatible, it integrates with the surrounding bone tissue to create a bond just as strong as that of the natural tooth roots. Thanks to this strong foundation, dental implant patients never need to worry about their new teeth shifting out of place.
The Dental Implant Process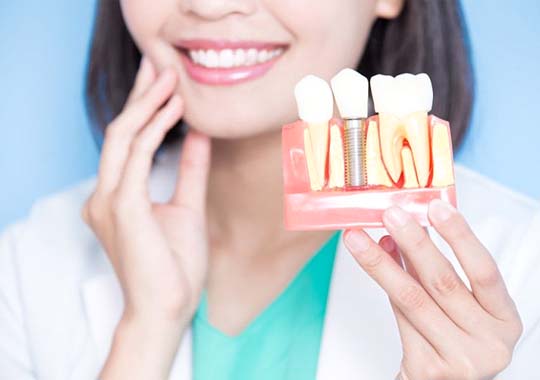 The dental implant process is usually completed over the course of several phases, including placement – in which the roots are positioned within the jawbone – and restoration, where the new teeth are attached. Typically, patients would need to visit multiple doctors to have this all completed, but at the Center for Advanced Cosmetic Dentistry, you can get everything you need under one roof. Dr. Crescenzo has the training and experience to perform every step of the process himself so that you can save time, money, and stress while rebuilding your smile.
Benefits of Dental Implants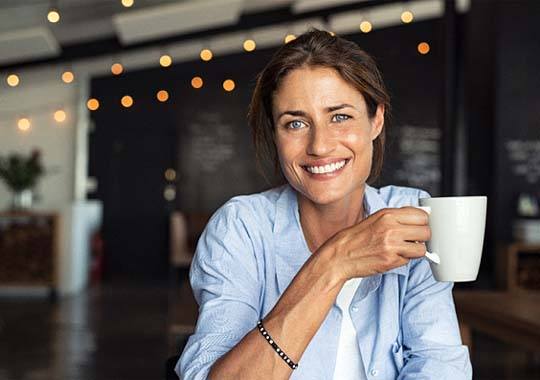 Remarkable stability – Because of their strong foundation in the jaw, your replacement teeth will never shift or slide around.
Seamless aesthetics – We use 100% custom-made porcelain restorations to top our dental implants, giving them a lifelike appearance that blends easily into any smile.
Simple maintenance – Unlike a traditional denture that requires its own unique cleaning routine, you can take care of your implants just like your regular teeth to keep them looking and feeling like new.
Lifelong benefits – Jawbone loss is extremely common after tooth loss, but implants are the only treatment shown to stop and even reverse this process, helping a patient maintain a more youthful facial shape.
Unmatched longevity – With the proper care, dental implants can often last for 30 years or more, or even for the rest of a patient's life in some cases.
Who Dental Implants Can Help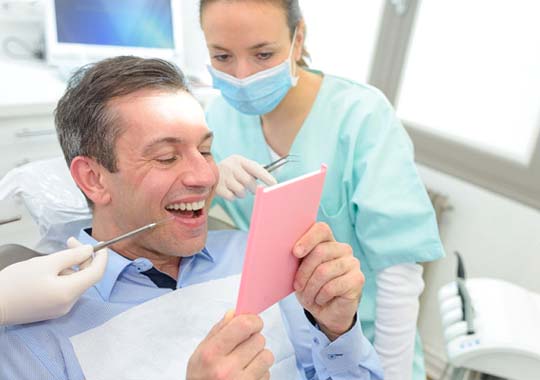 Dental implants can be used to help patients missing any number of teeth. They just need to have three basic requirements: good dental health, stable overall health, and enough jawbone to support the new roots. Once all of these conditions are met (our team can help you with any that are lacking), we can go over your restorative options.
Missing One Tooth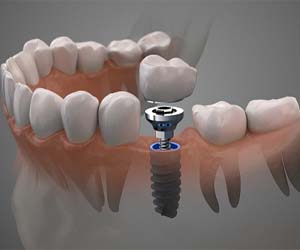 A dental implant root can be placed into the jawbone and connected to a porcelain crown using something called an abutment. Unlike with a traditional bridge, single implants don't require the adjacent teeth to be altered at all, better preserving someone's natural dental structure.
Missing Multiple Teeth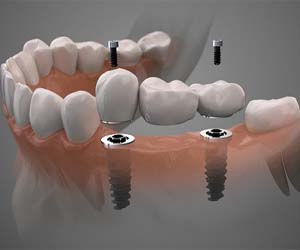 For patients missing teeth throughout their mouth, implants offer plenty of options. Crowns can be placed anywhere, and a small number of roots can even be used to secure a partial denture. Just two implant "roots" can be used to give a patient a dental bridge that replaces up to three teeth in a row.
Missing All Teeth
It only takes four to six carefully placed implant roots to give a patient a rock-solid full denture. Compared to a traditional removable prosthetic, implant dentures are smaller, have a better hold, and can even help a patient recover much more of their natural bite strength.
Understanding the Cost of Dental Implants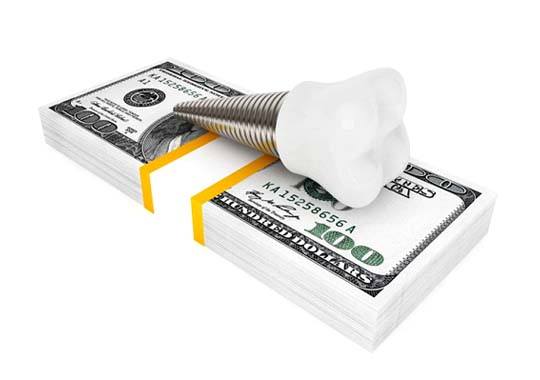 The most important thing to know about the cost of dental implants is that there is no fixed price. The number of implants needed, the type of restoration used, and many other factors can make the price vary from person to person. While implants do tend to be more expensive than other options, they are also an investment that will last for decades , and a patient won't have to periodically replace their restorations like with traditional bridges and dentures.
Types of Dental Implants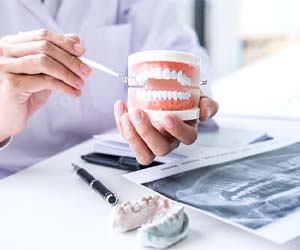 There isn't a set rate for dental implants because there are various factors that influence the cost, like the number of teeth you're missing. Generally, if you've lost multiple teeth you can expect to pay more because you'll require several posts, abutments, and restorations. We'll provide you with a personalized estimate during your initial consultation and discuss the fees associated with your treatment.
What Are the Stages of Dental Implant Treatment?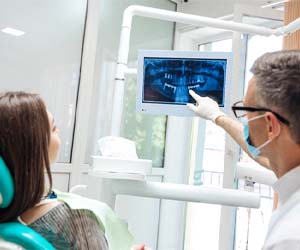 Unlike other tooth replacement treatments, a dental implant requires a multi-step process to recreate the tooth from the root up. Each step in your treatment has its own cost. This can make it easier to pay for your new smile because you won't need to cover the entire amount at once. Since it can take several months to complete your treatment plan, you'll have more time to pay to make your procedure affordable. Although every plan differs, most patients can expect to pay for:
Initial Consultation – Your implant dentist in Hammonton will perform a thorough consultation and review a CT scan to ensure you're a candidate for dental implants.
Additional Procedures – Many patients need additional treatments before their placement surgery, like tooth extractions, periodontal therapy, or bone grafting.
Placement Surgery – Sedation or anesthesia is necessary as your implant post is surgically placed into your jawbone.
Abutment – Every implant post needs an abutment to attach the restoration.
Restoration – Your replacement tooth is custom-made from all-ceramic material.
Are Dental Implants Worth the Investment?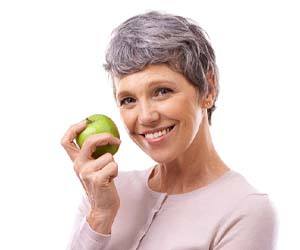 It's true you'll initially pay more for dental implants in Hammonton than other treatments, but they are more affordable overall. They are proven to last for decades with the right aftercare, so you'll never need to pay to have them replaced. In addition, they also preserve your jawbone to improve your oral health to lower your long-term dental expenses.
Does My Dental Insurance Cover Dental Implants?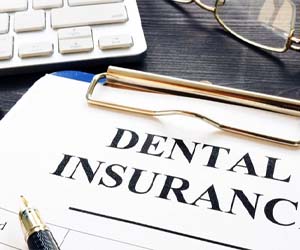 Every policy is unique; however, most plans offer some coverage for dental implants after reaching your annual deductible. A member of our team will file the necessary claim forms to maximize your yearly allowance to lower the amount you need to pay out-of-pocket. We'll help you find the solutions you need to cover any remaining balance to keep your new smile within your budget.
If you're ready to replace your missing teeth, contact our office today to schedule your consultation for dental implants. We look forward to rebuilding your smile.
Maintaining & Caring For Your Dental Implants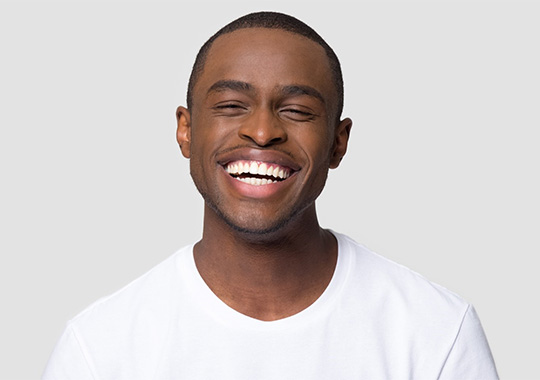 Now that you know the numerous benefits of dental implants, you can feel more confident with your decision to replace your missing pearly whites. Not only will they preserve your jawbone and facial shape, but they can also prevent further tooth loss due to dental shifting. These restorations are considered the gold standard for rebuilding smiles, as they can last several decades to a lifetime with simple dental care. However, you may be wondering how exactly you'll need to maintain your new teeth to make the most of them. Read on to learn several important ways to practice dental implant care in Hammonton!
Make Oral Hygiene a Priority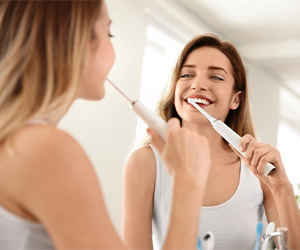 One of the main reasons dental implants fail is peri-implantitis or an infection in the gum tissue surrounding your replacement teeth. This typically happens because of bacteria and plaque buildup around your smile due to poor oral hygiene. For this reason, you'll want to stick to a good tooth cleaning routine every day. Simply by brushing twice a day, flossing daily, and rinsing frequently with ADA-approved mouthwash, you can ensure your dental implants remain healthy for many years to come.
Eat a Healthy Diet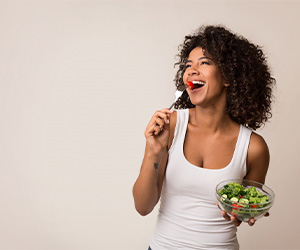 Since you'll regain around 80% or more of your biting power with your new teeth, you won't have to worry about holding back on your favorite foods. With the ability to munch on most types of meals, you'll also be able to maintain a healthier diet, which will be essential for your dental implants. Be sure to stick to more nutritional options like fresh fruits and veggies, lean proteins, whole grains, and lean proteins to promote stronger gums and bone tissue. Avoid overindulging in sugary, acidic, or starchy treats that can increase the risk of developing harmful bacteria.
Break Bad Habits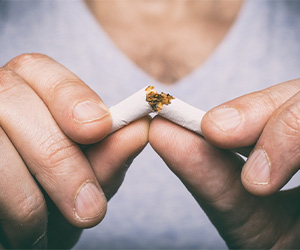 Part of preserving your dental implants and natural teeth is to refrain from bad oral habits. These may include biting your fingernails, chewing or smoking tobacco products, and using your teeth as tools—all of which can cost you an emergency trip to your dentist. Don't hesitate to consult our dental team if you need help quitting any of these habits, as we'll be more than happy to offer the support, guidance, and resources necessary to make this process easier for you.
Protect Your Dental Implants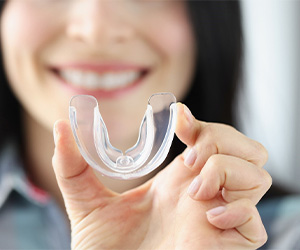 Do you usually grind or clench your teeth while you sleep? If so, then you might consider talking to us about nightguards for bruxism. They will allow you to rest easily as well as prevent wearing down your dental implants. If you tend to play contact sports where you can potentially take a blow to the face, then let us know. We'll be able to recommend the best products to preserve your specific smile!
Schedule Regular Dental Checkups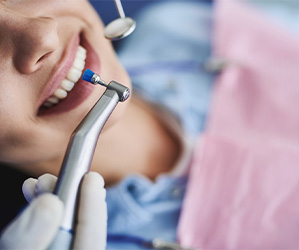 We highly suggest that you schedule routine appointments with our office for checkups and cleanings at least twice a year. This allows us to keep an eye on the condition of your dental implants and monitor your oral health for any developing issues. With early treatment, you'll be able to avoid more serious issues from becoming bigger problems, such as gum disease, cavities, and infections.
Dental Implant FAQs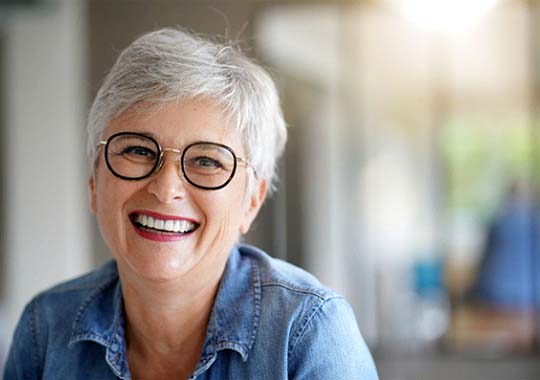 Dental implants in Hammonton are designed to last for 30+ years with proper care, so they are quite the commitment. Naturally, you may have a question or two on your mind beforehand, like "Will they look natural?" or "Is there anything I can't eat with them?" Don't worry – our team is here to answer any questions that arise throughout the treatment process. For now, keep reading for the answers to a few of the most frequently asked questions we get from patients.
What Can Cause Dental Implants to Fail?
Dental implants have an extremely high success rate at 95%. Plus, the numbers are even higher for patients who don't smoke or engage in unhealthy dental habits. With that said, it is possible for them to "fail." Typically, this is a result of two things: peri-implantitis or failed osseointegration. While peri-implantitis is a form of gum disease, failed osseointegration is the unsuccessful fusion of the implant post to the jawbone. A few additional common culprits include chronic teeth grinding, certain medications, and tobacco use. Of course, our implant dentist in Hammonton will review all of these risk factors during your initial consultation.
Will People Be Able to Tell That I Have Dental Implants?
Luckily, tooth-replacement solutions have come a long way since decades prior. While they were, at one point, obtrusive and obvious, they are now custom-made for each patient, ensuring complete comfort. Plus, they are crafted from only the highest-grade materials, ensuring dental implants both look and function like your natural teeth. It is also important to note that dental implants are the only smile-rebuilding treatment that replaces the entire missing structure – from root to crown – which results in unmatched stability.
Do Dental Implants Decay?
Unlike your natural teeth, dental implants aren't coated in enamel. As a result, they do not decay. Your surrounding gums and teeth are, of course, still vulnerable to serious dental problems, like cavities and gum disease. So, it's crucial to continue to maintain good oral hygiene best practices, like brushing twice a day, flossing each evening, and visiting your dentist twice a year for a dental checkup and cleaning.
Is There Anything I Shouldn't Eat with Dental Implants?
Immediately following your dental implant procedure, you'll be asked to stick to soft foods, like mashed potatoes, applesauce, and yogurt. Once you've healed fully, you can enjoy all your favorite foods again. Just make sure to keep in mind that, like your natural teeth, your dental implants can chip or fracture if you eat something especially hard. So, it's a good idea to be mindful when chewing tough bread, hard candies, etc. If you are ever unsure if you should or shouldn't eat something, don't hesitate to ask your dental team!