Dentist – Hammonton, NJ
Get to Know Dr. John Vitello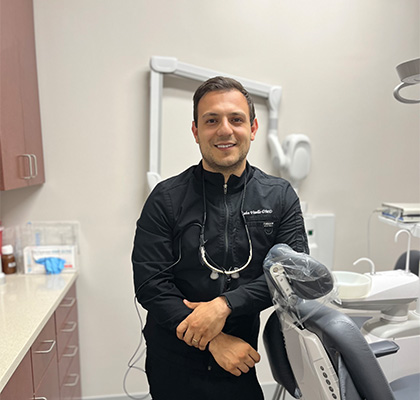 Dr. John Vitello ("Dr. John") is excited to join Dr. Crescenzo and Dr. Joe. Growing up in Hammonton, Dr. John attended St. Joseph Elementary and High School and always hoped for an opportunity to give back to the community and town he was so proud to call home. Growing up, Dr. John learned the importance of a smile. He experienced the power of dentistry firsthand and wanted to deliver that same impact to others through comprehensive and quality dental care.

John met Dr. Crescenzo when he coached John's baseball and football teams as a kid and stayed connected by shadowing Dr. Crescenzo before and during dental school. It was while shadowing Dr. Crescenzo that John was introduced to the importance dental health has on someone's overall health and happiness. Dr. John believes in compassionate dental care and is deeply committed to earning patients trust through great communication and empathy.
Where Did You Study Dentistry?
Dr. John received a Bachelor's in Science with a major in Biology from High Point University in North Carolina and his Doctor of Dental Medicine from LECOM School of Dental Medicine in Bradenton, FL. Over the past two years, Dr. John has been practicing dentistry in Ventnor, NJ and is excited to bring his passion back to his hometown.