Dentures & Partials – Hammonton, NJ
Custom-Made Prosthetics for Renewed Smiles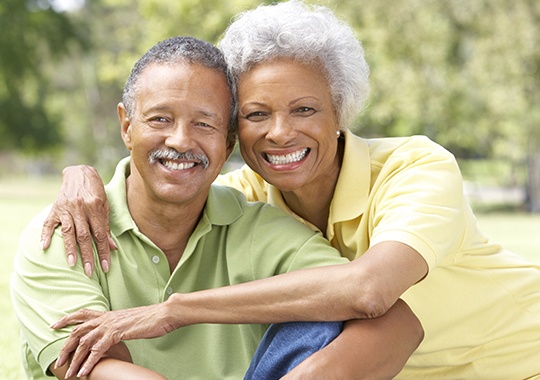 Missing teeth can affect every aspect of your life. You may avoid social situations and withdraw from friends and family. Your diet could suffer because it's too difficult or painful to chew. Dr. Crescenzo and Dr. Joe at the Center for Advanced Cosmetic Dentistry in Hammonton, NJ can revitalize smiles and improve physical and emotional health with custom-made full and partial dentures.
Why Choose Center for Advanced Cosmetic Dentistry for Dentures & Partials?
Partial, full & implant-retained dentures available
Every denture is custom-made for every patient
Highly-skilled team that uses the latest technology
Today's dentures look natural and feel great. They can improve speech, provide support for facial muscles to create a more youthful appearance, and return the ability to eat a healthy diet. Full dentures contain an upper and/or lower row of realistic prosthetic teeth on a base that's the same color as your natural gums. Over-the-counter adhesive, natural suction, or dental implants will keep your dentures secure.
Your dentist may suggest a partial denture if you still have some healthy teeth. Partial dentures contain as many prosthetic teeth as necessary to fill gaps left by missing teeth. They also prevent existing teeth from drifting out of position. Dr. Crescenzo and Dr. Joe use unobtrusive metal clasps, as well as dental implants in some cases, to attach partial dentures.
Because beautiful smiles are always in style, contact the Center for Advanced Cosmetic Dentistry in Hammonton, NJ to make an appointment. We'll happily discuss the option of dentures and partials with you and lead you through the process comfortably to ensure your total satisfaction. If you're in Hammonton, South Jersey, Egg Harbor Township, Galloway, or surrounding communities, visit us for comprehensive general, restorative, and cosmetic dentistry.