September 8, 2022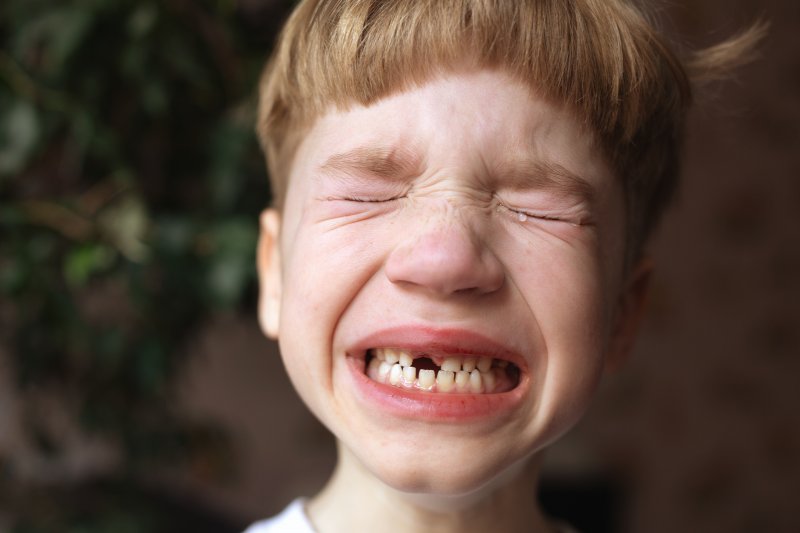 So, let's say you have an accident that leads to a knocked-out tooth. Should you freeze up and start to panic? Of course not! After all, there's still a chance that your tooth could be saved. That said, you might not know what you should do in this situation. Luckily, your Hammonton dentist is here to show you the ropes. Here are five steps you should take when you knock out a tooth — they'll make your smile's restoration faster and more effective!
#1 – Find & Pick Up the Tooth
First things first: Find the tooth you just lost. You can't fix it if you don't have it with you. Plus, it isn't good to leave it lying on the ground.
Once you've found the tooth, please pick it up by its crown or chewing surface. Handling it by the root, in contrast, could seriously damage it.
#2 – Rinse It
If there's any dirt or debris on the tooth, you'll want to rinse it off. However, only use water for this process; chemicals like soap could prove harmful.
It's also important not to scrub or dry the tooth. For instance, don't wrap it in a tissue or cloth.
# 3 – Put It in its Socket (if Possible)
If you can, try to put the tooth back in its socket. Two methods to do so are:
Gently push the tooth in with your fingers while handling it by the crown.
Position the tooth above the socket and close your mouth slowly.
Whichever approach you take, you'll need to hold the tooth in place if you're successful. You can use your fingers or bite for this part.
#4 – Keep the Tooth Moist
For your tooth to stay viable, it must always be moist. You'd ideally follow this step by getting the tooth in its socket. If you can't, though, you have alternative options. For instance, you could put the tooth in milk, in your mouth next to your cheek, or a preservation kit.
However you keep the tooth moist, make sure not to use regular tap water; root cells can't tolerate that liquid for long.
#5 – See Your Dentist Quickly
While carrying out steps one through four, be sure to act quickly. Bring the tooth to a dentist within thirty minutes of your injury if you can. That way, the odds of saving it will rise. Still, don't rush; the tooth could be saved even if it's been outside your mouth for an hour or more.
As you can see, having a knocked-out tooth isn't a hopeless scenario. Following the suggestions above, your smile can be restored in no time.
About the Author
Dr. David Crescenzo is a dentist based in Hammonton, NJ, having earned his DDS at the Georgetown Dental School. He's also a member of the American Academy of Cosmetic Dentistry and the Academy of General Dentistry. His specialties include preventive, cosmetic, and restorative dental treatments and emergency and sedation services. Dr. Crescenzo currently practices at the Center for Advanced Cosmetic Dentistry and is reachable on his website and by phone at (609)-561-0058.
Comments Off

on Key Steps to Take When You Knock Out a Tooth
No Comments
No comments yet.
RSS feed for comments on this post.
Sorry, the comment form is closed at this time.