July 10, 2020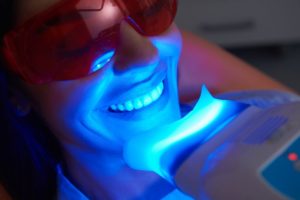 Once we reach our mid-thirties or so, we all start to wish we could look a little younger. That's why there are entire industries selling makeup, creams, and injections designed to smooth out the wrinkles and take years off your appearance. What if there were an easier way to look more youthful? There is – with professional teeth whitening from a dentist in South Jersey. With either in-office or take-home whitening treatments, your smile can look several shades brighter in no time at all, making you look so much younger. Keep reading to learn a little more about how this treatment works.
Do White Teeth Make You Look Younger?
According to a study recently conducted by Oral-B, yes. In the study, people were shown one photo of a model with white teeth, and another with yellow teeth, and were asked to guess her age. On average, they said the model with yellow teeth was thirteen years older than the one with a bright smile.
People with white teeth are also generally thought to be more attractive, successful, and healthy. If your pearly whites have fallen victim to discoloration over the years, though, there's still hope. Just ask your dentist about your teeth whitening options.
How Your Dentist Can Brighten Your Smile
Most dentists offer two methods of lightening the shade of your teeth: in-office or at-home treatment. The first option can be completed in just one hour-long appointment. Your dentist applies a bleaching gel to your teeth that is exponentially more potent than any over-the-counter whitening product. The gel breaks down the stains on your teeth, so when the gel is wiped away, the stains disappear as well. This process can be repeated a few times until you're satisfied with your results.
At-home whitening involves filling a set of customized trays with a bleaching gel and wearing them over your teeth for about half an hour each night. This lets you achieve a brighter smile from the comfort of your own home. Best results are usually seen after two weeks of daily use.
Why You Should Get Professional Whitening Rather Than Store-Bought Products
While generic whitening products may be cheap, they just can't deliver the same results that professional whitening can. They simply don't contain enough of the bleaching ingredients to give you the white smile you deserve. In addition, professional whitening is designed with your comfort in mind. It's less likely to cause sensitivity or soft tissue irritation. Lastly, your results can be trusted to last much longer.
If you're looking for an easy way to look younger in a matter of weeks, call your dentist and ask how they can brighten your smile. Professional teeth whitening, along with regular brushing, flossing, and dental checkups, can keep your smile healthy and looking young for years to come!
About the Author
Dr. David Crescenzo is a dentist in South Jersey who graduated in 1990 from Georgetown Dental School. Since then, he has helped countless patients in the Hammonton, NJ community achieve bright, healthy smiles. He offers both in-office and take-home whitening treatment to knock years off your smile. To learn which option is best for you, visit his website.
Comments Off

on Can Having White Teeth Make You Look Younger?
No Comments
No comments yet.
RSS feed for comments on this post.
Sorry, the comment form is closed at this time.