October 4, 2022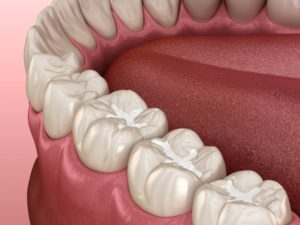 Dental fillings are a lifesaver – at least as far as your teeth are concerned. A filling gives your tooth a second chance after suffering from a cavity. But how long do fillings last? The answer depends on several factors, including the materials used and how well you care for your new and improved smile. With this in mind, keep reading to learn from your dentist in Hammonton about the average lifespan of fillings, how to properly maintain them, and signs it's time for a replacement.
What Factors Determine the Lifespan of Your Fillings?
Typically, fillings last about 10 years, but some can last much longer. Amalgam or ceramic fillings last about 15 years, while composite (7 years) and glass ionomer (5 years) varieties will need to be replaced sooner.
Amalgam and composite fillings are the most common types. Though much more expensive than those options, gold fillings can last 20 years or more. Ceramic fillings are the most expensive and least common, while glass ionomer fillings are the most fragile and used for small cavities near the gumline, as opposed to chewing surfaces.
In addition to the materials used, other factors affecting the lifespan of your fillings are:
Eating habits
Dental hygiene
Trauma to your tooth
Decay around the filling
Grinding your teeth while you sleep
How Do You Take Care of Your Dental Fillings?
Brushing your teeth twice a day with fluoride toothpaste, flossing daily, and eating a balanced diet can all help extend the life of your fillings. Avoiding foods that are hard, sticky, or sugary will reduce the threat of wear and tear, as well as new cavities.
Regular visits to the dentist and professional cleanings twice a year are essential so that your existing fillings can be inspected to detect any problems early on. Your dentist can check for any weaknesses in the material, as well as take dental X-rays to look for decay under the filling. If grinding your teeth at night is an issue, your dentist may recommend a mouthguard to protect your fillings, plus your teeth and jaw in general.
When Do You Need to Get New Fillings?
Constant stress from chewing, clenching, and tooth decay can damage your filling or the tooth around it. If a filling chips, cracks, or begins to separate from the tooth, decay-causing bacteria can get trapped between the filling and the tooth that can't be cleaned away with regular brushing and flossing.
It's important to get a damaged filling treated right away to prevent the bacteria from doing additional damage like affecting the nerve. Other symptoms of a damaged filling include sharp pain when chewing or intense sensitivity to heat or cold.
So, how long do fillings last? Fillings can effectively restore the look and function of a once-decayed tooth for more than a decade with proper care, so it's easy to see why they're such a popular restorative treatment! To prolong the lifespan of yours, brush consistently, floss daily, and be sure to have your fillings checked during each dental visit to help them last longer!
About the Practice
At the Center for Advanced Cosmetic Dentistry, our goal is to provide patients with the best dental appointment they've ever had. It's about valuing a patient's time, plus providing incredible service with a priority placed on aesthetics, function, and longevity. If you are interested in dental fillings, we offer tooth-colored ones made of composite resin that look so natural only you and our dentist will know you had work done. Schedule an appointment on our website or call (609) 561-0058.
Comments Off

on Taking Care of Your Fillings Will Keep You Smiling
No Comments
No comments yet.
RSS feed for comments on this post.
Sorry, the comment form is closed at this time.