February 5, 2023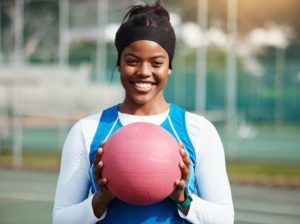 Do you play sports or lead a very physically active life? If so, it is essential that you are aware of how to protect your oral health. According to the Journal of the American Dental Association, about 39% of dental injuries are sports-related. That means that almost half of all damage done to people's pearly whites is caused by physical activity! The good news is you can be aware of the most common dental emergencies for athletes and do your part to protect your smile. Read on to learn more!
#1. A Cracked Tooth
Anytime a ball, bat, or physical contact is involved in an activity, watch out for your pearly whites! It only takes one quick hit to the face to give you a cracked or fractured tooth. If this does occur, take notice of the lines formed from the crack. If they are across the tooth, they are called "craze" lines and generally aren't harmful to your smile. However, if the crack begins at the tooth's chewing surface and extends downward, it's considered a cracked tooth. You will normally experience sharp pain when biting down or while eating and drinking.
#2. A Fractured Root
If you receive a blow at a certain angle, it could cause a fractured root. A crack can occur as a result. It will begin at the root level and travel upward to the tooth's crown. However, a fractured root can also have no symptoms and you may only realize you have one until an infection develops. This could require root canal therapy to prevent the disease from spreading to the pulp and help to avoid tooth loss.
#3. A Tooth Intrusion
Rather than knocking a tooth out, a tooth intrusion drives it back into the jawbone. While it is usually more common in baby teeth, it can still happen to athletes of all ages. A tooth intrusion can lead to other dental complications, including destroying the tooth pulp, shortening the root, and fusing the injured tooth's root to the jawbone.
How to Protect Your Smile as an Athlete
Dental emergencies are unexpected and unpredictable. However, you can take steps to help reduce your risks. Athletes tend to naturally have great habits that already help keep their smile strong, like eating vitamin-rich foods and staying hydrated. Here are a few other things to be mindful of to protect your gums and teeth:
Wear a custom-made athletic mouthguard while playing any sport.
Limit beverages with high sugar content, like sports drinks.
Avoid poor oral habits, such as smoking and using your teeth as tools.
Practice good oral hygiene by brushing twice daily, flossing once a day, and rinsing with mouthwash frequently.
Attend your dental checkups and cleanings every six months.
Prevention is key in avoiding dental emergencies, especially if you lead an active lifestyle. With these tips in mind, you can enjoy all your physical activities while keeping your pearly whites whole and healthy!
About the Practice
The Center for Advanced Cosmetic Dentistry is eager to help you with any of your oral health needs, including an emergency. Their experienced team of dentists will provide 5-star quality care and are trained for any unexpected dental event. They offer same-day appointments and advanced technology to get your smile back conveniently and expertly in top condition! To schedule a visit, contact them through their website or call (609) 561-0058.
Comments Off

on 3 Common Ways to Harm Your Smile as an Athlete
No Comments
No comments yet.
RSS feed for comments on this post.
Sorry, the comment form is closed at this time.