December 5, 2022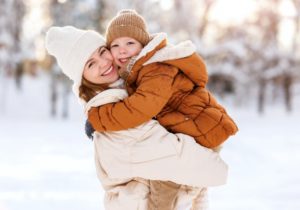 The winter season has arrived! It is time to do all the necessary things to prepare for the colder weather, like getting out warmer clothes and making comfort foods. As you get ready for the drop in temperature, it is good to be reminded of how the cold, dry air impacts your oral health so you can take measures to protect your mouth. Here are three of the most common oral issues that can occur during the wintertime and what you can do to keep your smile healthy!
Tooth Sensitivity
Most people know the uncomfortable feeling that happens when something cold hits your teeth. Well, breathing in the chilly air can have the same effect! Teeth sensitivity during the winter is common as your teeth contract and expand to temperature changes (especially when you are transitioning from outdoors to indoors).
Here are some following tips on how to help with this common winter issue:
If your sensitivity last for 30 seconds or more, consider visiting your dentist, as it could be caused by something more than the cold air; it could possibly be a sign of a cavity or infection.
Breathe through your nose when you are outside.
Consider switching to a desensitizing toothpaste.
During outdoor activities, think about wearing a balaclava that covers your mouth.
Dry Mouth
Humidity in the air tends to decrease during the winter, which can make your mouth feel dry. Other contributing factors can be indoor heating (especially wood heat) and viral cold and flu infections. Why can a dry mouth possibly lead to oral health issues? When there is no saliva in your mouth to wash away bacteria, plaque and tartar collect, it increases the risk of tooth decay and cavities. The excess bacteria can also lead to gum disease and erosion of enamel. Here's how you can keep your mouth hydrated:
Drink plenty of water.
Stimulate saliva production by chewing on sugar-free gum.
Cut back on your caffeine intake.
Use a humidifier in your home.
Cheilitis (Chapped Lips)
In addition to making your mouth feel dry, low humidity can also take the moisture out of your lips, causing them to become chapped. When your lips become too dry, they can crack, which can be quite painful. Once again, a humidifier and drinking plenty of fluids will help to alleviate chapped lips. Also, applying a high-quality lip balm will add moisture as you go throughout your day. It will also add an extra barrier of protection, especially when stepping out into the cold.
While winter is a magical time of the year, it can cause irritation to your mouth if you don't take precautions. By keeping these tips in mind and taking care of your oral health, your smile will remain happy and healthy during the colder months.
About the Practice
The experienced team of dentists at the Center for Advanced Cosmetic Dentistry are eager to keep your smile healthy and beautiful throughout every season! They offer a range of services, including preventive, restorative, cosmetic, and emergency care. By using advanced dental technology and customized plans, they can meet all your oral health needs. To schedule an appointment, contact them through their website or call (609) 561-0058.
Comments Off

on Brrr! 3 Winter Mouth Issues & How to Protect Your Smile
No Comments
No comments yet.
RSS feed for comments on this post.
Sorry, the comment form is closed at this time.