February 8, 2020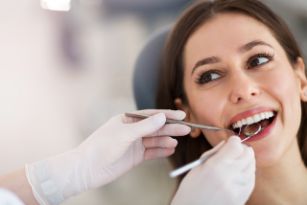 Here's a statistic that may surprise you: A recent study found that gum disease increases your risk of heart disease by 20%. And since an estimated 65 million adults in the U.S. have some form of gum disease, there's a good chance that you or someone you know is affected! February is not only American Heart Month but also Gum Disease Awareness Month, so it's a great time to learn about the surprising link between your oral health and overall health. You'll also find out how a dentist in Hammonton can help improve both. Find out more below! 
What Are the Signs of Gum Disease?
The only way to be certain of whether you have gum disease or not is to schedule a checkup with a dentist. These visits automatically include a gum exam so that any problems can be found and treated as soon as possible.
It's also helpful to keep an eye out for the common signs of gum disease between visits. The first stage, called gingivitis, includes symptoms like bleeding after brushing and flossing or swollen or tender gums. With consistent checkups and cleanings and good oral hygiene habits, it can usually be reversed.
Later stages of gum disease includes symptoms like receding gums, persistent bad breath, loose teeth or changes to your bite, and pain when chewing. At this point, it can't be reversed or cured, but it can be managed to prevent it from getting worse.
How Does Gum Disease Affect Your Heart and General Health?
Inflammation is a key factor in gum disease and is caused by large amounts of bacteria in plaque and tartar. It's thought that inflammation in the gums spreads throughout the entire body, including the heart, where it can cause plaque to form in the arteries and increase the risk for high blood pressure, atherosclerosis and other heart problems.
In addition, gum disease has also been found to increase the risk of many other diseases such as diabetes, stroke, Alzheimer's, pregnancy complications and some cancers.
How Is Gum Disease Treated?
If a dentist diagnoses you with gum disease, they may recommend the following types of gum disease treatment:
Scaling and root planing (aka "deep cleaning") – Patients with gum disease have significantly more plaque, tartar and bacteria under the gumline than usual, which is the source of inflammation. This procedure is designed to remove those deposits and also smooth the roots to prevent it from re-accumulating. It's typically done in 2 to 4 appointments, depending on your needs, and your gums are numbed beforehand for comfort.
Soft-tissue laser – A soft-tissue laser is a great addition to scaling and root planing because it allows for greater precision to target bacteria and unhealthy gum tissue. It also means less bleeding and discomfort along with faster healing.
Many people are alarmed to find out how gum disease can affect them. But, with professional care and good habits at home, you'll greatly lower your risk and better maintain your health and well-being.
About the Author
Dr. David Crescenzo is a dentist in Hammonton with 30 years of experience and a graduate of the Georgetown University School of Dentistry. To help his patients improve their oral and overall health, he offers multiple types of effective gum disease therapy, including scaling and root planing and laser treatment. If you'd like to know more about gum disease or have any questions, he can be reached via his website.
Comments Off

on Dentist Explains the Surprising Truth About Oral Health and Your Heart
No Comments
No comments yet.
RSS feed for comments on this post.
Sorry, the comment form is closed at this time.